Skip to Content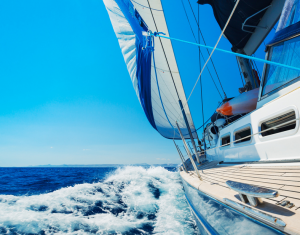 Florida lives up to the name Sunshine State and it brings many boaters out onto the waters every day. Whether you are soaking up the sun or reeling in a great catch, you should always stay vigilant because boating can be very dangerous. Many people are hurt every year from a variety of boating accidents and we want to make you aware of the most common types of boating accidents.
Speeding- People should pay attention to their surroundings, whether it is the size of the waves or if they are in a no-wake zone. Speeding can cause accidents with other boats just like it does with cars.
Driver Error-This could involve someone not paying attention when steering the boat or boating under the influence.
Over Crowding- By merely overloading a boat with too many people, it could result in an accident.
Unseaworthy Vessels- If a boat is not properly maintained it could cause problems while you are out at sea. All types of mechanical malfunctions could happen and result in an accident.
If you have been involved in a boating accident and are looking for an experienced lawyer in Pasco County, look no further than Law Offices of Steven J. Glaros and Associates. Contact our firm by calling us at 813-854-1234 and schedule a consultation.